THE PRINTS - TECHNICAL INFORMATION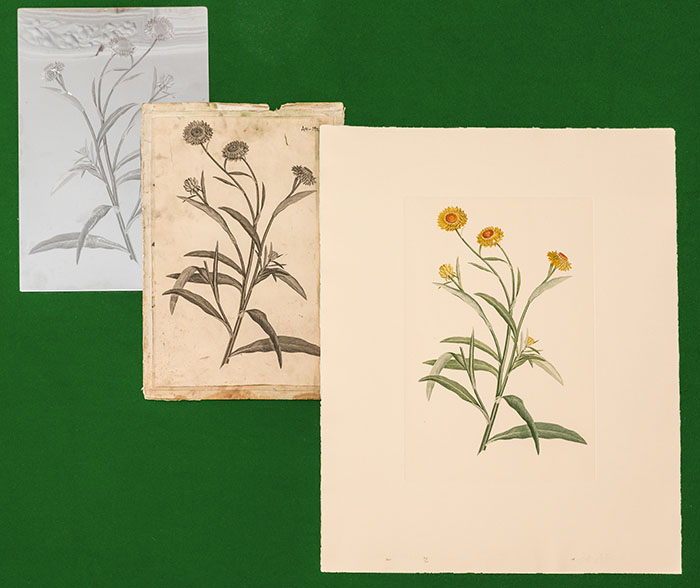 ---
The plates are virtually uniform in size: 18 x 12 inches (457 x 305 mm).
The paper is acid free Somerset mould-made 300 gsm, each sheet watermarked 'AHE', produced in a special making by the Inveresk Paper Company: 28 ½ x 21 7/8 inches (724 x 556 mm).
The engravings are printed in colour à la poupée, up to fifteen colours being worked directly into the single plate before each print is pulled, with additional details added in watercolour.
Each sheet is identified by blind embossed stamps on the recto, incorporating the publishers' and printer's chops, the copyright symbol and date of publication. The initials of the individual printer, the plate number and the edition number are recorded in pencil.
---
Each of the engravings is protected within a double-fold sheet of acid free Somerset mould-made 300 gsm paper, cut to form a window mount on which is recorded the modern and Banksian names of the plant, the location and date of its collection and the name(s) of the artist and engraver.
The compilation of botanical information was made under the direction of the British Museum (Natural History).
Banks' Florilegium was issued in thirty-five parts in dust proof Solander boxes from Dr Solander's original design.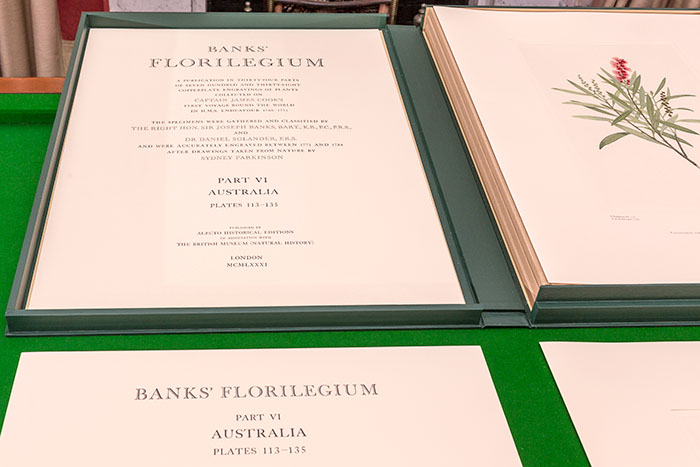 ---
---